MAP Communications Call Center and Answering Services
MAP Communications is here to disrupt the traditional call center model. Featuring a one-of-a-kind suite of answering services designed to keep both our clients and their customers happy, MAP is the cure to the common call center. Our live call center services are provided by agents based entirely in the United States. Allowing us to handle your calls lets you and your team reclaim the time necessary to focus on the most important tasks on your to-do list while still prioritizing superior customer service. Whether you're hoping to grow your company, provide stronger customer support or simply outsource administrative tasks to smart, capable professionals, you can call on MAP to provide the customized solutions you require.
While there are certainly a number of live answering services to choose from, we believe our experience and dedication are a large portion of what sets us apart from our competitors. With nearly three decades in the industry, MAP is employee-owned and operated. When you call us, you're speaking with one of the owners every time. Because our success is tied to yours, you'll rest easy knowing that we treat your callers the way you would if you could. In a busy world full of constant multitasking, allowing a phone answering service to take this administrative burden off your shoulders can be incredibly freeing.
Please have a look at some of the answering service and call center solutions we offer and click/tap to learn more.
Unique Advantages
Our unique approach to customer service sets us apart from our peers.  When your callers reach out to your business, MAP's team of experienced and highly-trained virtual receptionists are quick to answer the incoming call. Working from a custom script of your design so that we are always on-brand, our team can help with everything from appointment scheduling and placing an order to technology troubleshooting and beyond. Because we're available 24 hours a day, seven days a week, you'll literally never miss another call again.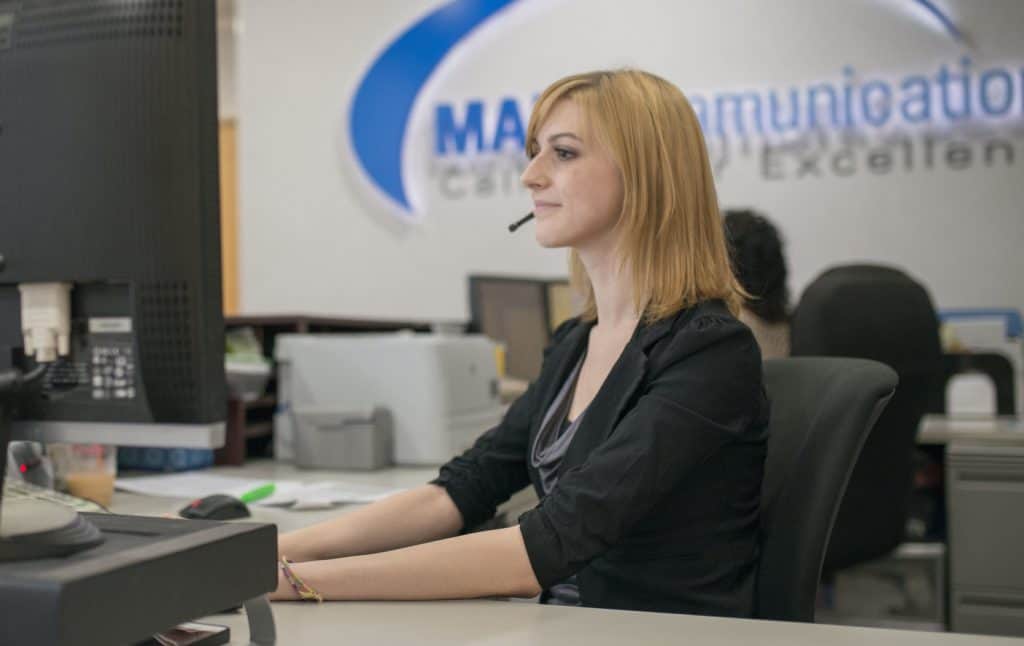 As noted early, yet not to be understated, MAP is based 100% in the United States. Unlike many other call centers, we employ native English speakers to maximize clear communication between our team and your callers. We know how challenging it can be to speak over the phone with a stranger. Without body language or facial expressions to read, the subtext is easy to miss. Our team, however, are experts in communicating with callers as they establish a trusted connection that is not only easy to understand, but actually helpful.
While we do understand and prioritize the importance of native English speakers, we are also in touch with the realities of our country's demographics. Given the increasing number of Spanish-language speakers in the United States, we believe it's incredibly beneficial to give businesses a way to communicate with everyone in their potential customer base. That is why we also have a team of bilingual agents who are fluent in both Spanish and English. Consider how much you have to gain when partnering with MAP to take advantage of the opportunity to provide support for both English and Spanish-speaking callers. You may even find that you can now access entirely new segments of the market that was previously unreachable. This feature provides an invaluable boost to many businesses.
A Personalized Customer Experience
There's just no denying it: being tethered to your phone is distracting. Imagine all you'll accomplish with MAP Communications answering your calls. Rather than being constantly interrupted by your ringing phone, you and your colleagues will find the time to focus on what's most important to you and your business. With MAP on the job, your entire team may find themselves re-energized and ready to tackle new projects.
Some people fear that partnering with a call center will result in a less personal phone call experience for customers and clients. Not so with MAP. Work with our team to create a customized business phone script that's tailored to your specific requirements. Whatever your preferences, MAP can bring your customer service vision to life. Callers are treated to a conversation that's designed with them in mind. Plus, we never put your callers on hold, so they receive our full attention whenever they call.
Because MAP partners with such a wide array of businesses, we have experience handling calls in sectors as disparate as criminal law and college financial aid. We see ourselves as the ultimate Swiss army knife, ready to meet any administrative challenge with which we're tasked. Regardless of your field, we work with you to determine your specific communication goals and discuss what an ideal live answering service partnership looks like to you.
Here are some of the industries we serve. Find yours and learn more about our custom solutions.
Providing More Critical Insight For Your Company
Many of our clients appreciate the wraparound nature of our services. So much more than a simple phone answering service, MAP offers an entire suite of management tools designed with busy managers in mind. The comprehensive nature of our online tools means you can track an entire history of a single customer. Review specific calls, view orders placed or appointments scheduled and understand the context of a given complaint with a few simple clicks.
If you're looking for more of a holistic perspective, we track call data for insight into trends. Zoom out for a look at what time of day you receive the most calls or take a peek at how long the average call lasts. Gain valuable insight into the customer experience with the help of MAP. Whether you're a data enthusiast looking to crunch numbers about your calls or just want a big picture point of a view, we've got the tools to track trends big and small.
This service comes in handy when dealing with confusion or complaints. Pick and choose specific calls to dig in and understand glitches, confusing policies or other problem areas. Our platform can give you greater insight into common challenges faced by your customers. Considering that such insight often comes only after hiring an expensive consultant, you'll be even more sure that partnering with MAP was the right choice.
A Professional, Secure Approach to Call Handling
When you're in the market for additional administrative support, not just any receptionist will do. Thankfully, MAP Communications has a rigorous training process designed to turn our answering service agents into administrative superheroes. But the training doesn't end after just a couple weeks on the job like many other call centers. Instead, we provide ongoing training to ensure our team is always equipped with the knowledge and skill to efficiently handle whatever call comes their way.
Even better, our employees are trained with your specific challenges in mind. For example, a busy medical office might need to collect sensitive patient data that complies with HIPAA best practices. Or maybe your ecommerce website requires that we gather credit card information in a PCI friendly manner. We're fully HIPAA and PCI compliant to keep all private information totally secure. We prepare our virtual receptionists to tackle challenges head on, so we're prepared to handle even the most stringent of privacy policies.
A positive phone experience can turn callers into raving, roaring fans of your business. When people are treated with the respect and care they deserve, they have a tendency to tell the world about it. The sad reality is that in a busy world, customer service has taken a back seat to efficiency and profits. With MAP on the job, though, you may find you are developing a reputation for stellar customer service with the positive reviews to prove it.
Explore our Nationwide Answering Service and Call Center Solutions in Your State
Unparalleled Customized Call Center Solutions
Years ago, customers might have been more inclined to call back later, but with dozens of competitors just a single web search away, many consumers just don't have the patience to call back another time. MAP Communications disrupts this common administrative challenge by quickly answering the phone every time it rings. Callers feel connected and cared for from their very first interaction with a virtual receptionist. We believe that longevity stems from great client relationships, and we want to be there from the minute your callers first reach out for assistance.
While there are plenty of call centers to choose from, not all are created equal. Our flexibility and customizability means that there's no need to force a one-size-fits-all approach to your business, which we believe make us the perfect for your requirements. We take time to listen to your challenges, address your concerns and work in lockstep with you and your team to solve problems. Our dynamic and proprietary answering and call center services can be customized to meet a variety of different business demands. From a basic live answering service for a small business, to a complex call center solution that utilizes our in-house team of software developers and programmers, we can tackle any challenge by designing a custom solution for you.
Plus, we offer affordable pricing options to meet any budget size. And we refuse to lock any of our clients into long-term contracts. Instead, we operate on a flexible month-to-month agreement so that we can earn your business with every turn of the calendar page. Even better? We operate on a full monthly billing cycle rather than squeezing extra money out of you like so many other call centers do with their 28-day billing. What more could you want from a call center partner? Check out our answering service pricing guide to learn more about how to compare rates and plans.
Experience the MAP Communications Difference
Seeing – and hearing – is believing. View the online video demonstrations for examples of our inbound call handling. These recordings of real calls provide an insight into how our receptionists sound when they are taking care of callers across different industries. You can even see the program MAP agents use to gather information, deliver your messages, and provide an exceptional caller experience.
Want to see for yourself how our services can enhance your business before you sign up? No problem! If you're ready to give MAP a try, we'd like to invite you to take part in a free, week-long trial of our services. Designed to be a no pressure and obligation-free sample of our offerings, this trial requires no signatures, deposits or contracts. Instead, you'll receive a free week of administrative support from some of the best and brightest receptionists around. During the trial, you'll experience the MAP Communications difference first hand. From the fastest pick-up times in the industry to online account analytics and much more, MAP thoughtfully and carefully caters to your precise requirements. Take advantage of our 7-day free trial offer and find out how our answering service solutions are different from the competition and can help take your business to the next level.
MAP Communications is an accredited member of the BBB with an A+ rating. Contact us today for more information or to get your free trial started.