Whether you are mowing grass during the summer or plowing snow in the winter, our customized answering services for landscaping professionals has got you covered.
Something about loud lawn equipment and important phone calls don't seem to mix well. If you're a landscaping professional, perhaps you have experienced this. Imagine being hard at work getting the job done with a mower or trimmer, and then you feel it. Your phone begins to ring in your pocket. Your only options are to stop your work, shut off your equipment and take the call, or miss a potentially important business inquiry on the other end of the line. At MAP Communications, we've solved this problem and built the best landscaping answering service programs in the industry to revolutionize your lawn care business.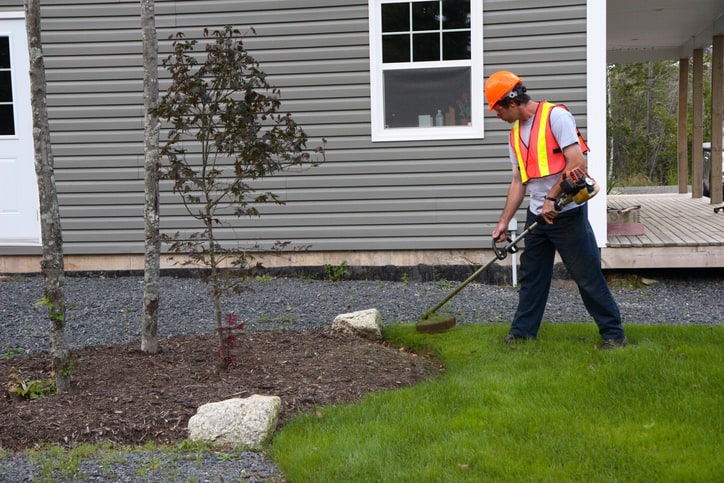 You may be in the weeds at work, but you will never be overwhelmed with phone calls. MAP is able to handle even the highest level of call volume; yet each call is managed with unique attention by our trained staff of virtual receptionists. With our landscaper call answering service, you will have a full team of experienced representatives at your disposal to handle all of your incoming calls. We understand that you don't want to miss a call whether it's regarding a big ticket job like installing pavers or even an inquiry about weekly lawn mowing as those can turn into lifelong customers.
Our bilingual virtual receptionists for contractors know the ins and outs of the landscaping business and they can handle tasks such as scheduling, quoting, call forwarding, taking messages and so much more. Plus, with MAP, you'll never miss an important message because our live answering services for landscapers are available 24/7 to handle all incoming calls. Think about the potential business you may be losing due to mishandled or missed phone calls. With call answering for landscapers like you, your customers will experience a new level of professionalism; a trait that will really set your business apart from competitors.
Affordable Bilingual Call Answering Service for Landscapers
Our landscaping answering service is staffed by bilingual agents who are based here in the US and are passionate about customer service. As America's demographics shift, more and more of your callers may require assistance in other languages. While you might be tempted to add a single Spanish-speaking employee to your administrative team, staffing budgets only stretch so far. With MAP's answering service for landscaping companies, you only pay for the calls we actually answer on your behalf – there's no need to pay an employee to sit around waiting for the phone to ring!
A landscaper answering service can provide a much-needed image boost, too. Many of our clients opt to use a new 800 number to advertise their services. An 800 number and a professional landscaper answering service can build serious credibility. It's the quickest and easiest way to convey your professionalism and success before you even speak a single word to a prospective customer. Of course, should you prefer to keep your existing number, you can redirect your incoming calls to our call center whenever you want.
Customized Landscaping Answering Service Support for Seasonal Business
Every industry has its ebbs and flows, but in the landscaping and gardening world, you can set your watch by seasonal business. Each season has its high points depending on where you do business. While you're out in the field every spring, summer and fall, our landscaping call center can stand by to assist callers and even dispatch your employees to specific locations as needed. In the colder winter months when business slows down, you can scale down or pause call coverage – simply turn it back on as you see fit. The opportunities for a better work/life balance never end with MAP at the ready!
We aim to become a seamless extension of your in-house team. In many cases, your callers may never realize they're speaking with a landscaping answering service when they dial your number. Allow us to route calls, schedule appointments, answer questions and provide estimates based on your specifications. The sky is truly the limit with MAP.
MAP COMMUNICATIONS LANDSCAPING ANSWERING SERVICE AND CALL CENTER SOLUTIONS CAN HELP YOU BY:
Handling all calls with a specific goal in mind – keeping customers happy, growing your landscaping business, and strengthening your brand are all concepts that MAP call agents have in mind with each phone call.
Serving as a 24/7 live receptionist you will never miss an emergency or urgent call.
After hours answering service and support once you've gone home for the day.
Giving your customers the feeling that they are valued by your company.
Providing dynamic and helpful online tools that help supervise and manage your staff, greatly helping with accountability.
Bilingual service from US-based agents who are fluent in English and Spanish
MAP is based in the U.S. and is available 24 hours a day / 7 days a week to help answer any phone calls. We want to show landscaping companies how call management and answering services can greatly improve their business. MAP Communications call agents have the knowledge to answer all types of questions about your landscaping services; providing an exceptional calling experience for your customers.
Here are a few articles if you'd like to read more about our landscaping answering service and how they can assist you as a landscaper:
How an On-Call Answering Service Can Build Your Business
Why You Need a Live Answering Service
How an Answering Service 7-Day Free Trial Can Change Your Business