MAP Communications is the call center that healthcare professionals turn to for their medical answering service requirements.
Few offices are as consistently busy as medical facilities. With patients coming and going, appointments being scheduled, canceled, and rescheduled, and a staff whose priorities are constantly changing, answering the phone can fall way down the list of things staff can easily tend to. In times of need, though, patients want their phone calls answered quickly and by human beings, not robots or voicemails. MAP Communications can help make this a reality with our medical answering service.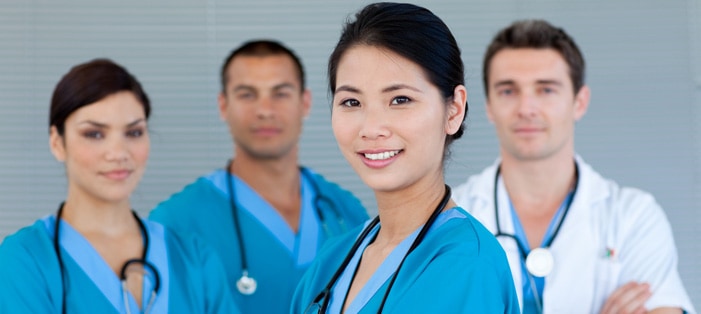 24/7 availability makes our medical call center service more accessible than what an in-house receptionist can provide. Plus and our affordability combined with powerful customization options makes us incredibly valuable to medical professionals with small practices all the way up to large healthcare organizations. No matter your area of expertise, our healthcare call center team can provide efficient, sensitive service to your patients. Allow us to become an extension of your practice and you'll no doubt see your reputation for quality customer service grow.
Customized Medical Call Center Solutions Tailored to Your Unique Requirements
Our medical phone service agents are all based in the United States. Their support can go a long way to help you feel more connected to your patients. Whether you're a solo practitioner hoping to stem the tide of inbound calls or you run a busy network of facilities you're hoping to better organize, our services can make a real impact. No matter the size of your operation, your team will see the immediate benefits of our answering service.
What might you accomplish if you weren't constantly being interrupted by a ringing telephone? Our team works around the clock to deliver support any time you might need us. Outsourcing your phone calls allows you to free up time for yourself and your colleagues and provide more focused care for your patients. Whether your goal is to see more patients, increase accessibility to your staff, or pursue a healthier balance between work obligations and your home life, a healthcare answering service is the solution.
MAP's virtual receptionists are highly trained to meet the specific requirements of your practice. They employ customized call scripts to ensure your policies and procedures are met with fidelity. This means quality caller experiences every time the phone rings. In many cases, callers may never even realize they're speaking with a third-party service.
Because we offer bilingual support, appointment scheduling also becomes more manageable. Our team can answer calls 24 hours a day, every day. This means handing off your calls and focusing more directly on the needs of your patients.
Call Overflow Support for Medical Practices
Each year, it seems there are more compliance regulations for medical staff to follow. As the medical field continues to evolve – and as technology becomes an increasingly important part of the industry – employees look for ways to be more efficient with their time. A large influx of calls can interrupt that efficiency, delaying appointment times and having a domino effect on your day. Not taking those calls isn't an option. When you're stuck between a rock and a hard place, a medical answering service is the solution.
A medical call center can provide call overflow support as needed. Turn our services on for particularly busy periods or seasons, then turn off coverage as things slow down again. The flexibility and convenience is undeniable. Our call overflow service expands your team by having our virtual receptionists jump in to help with calls whenever you like. MAP receptionists can assist callers, answer FAQs, screen calls, route callers to the appropriate department, schedule appointments, take messages, and even integrate with electronic health records.
A 24-hour medical call center can also help improve patient satisfaction. Rather than having to wait on hold or get sent to voicemail, patients will get to speak with a helpful representative right away. This shows them that their concerns are a top priority for your healthcare practice.

After Hours Answering Service for Medical Offices
When a patient dials your practice after traditional business hours, what happens? In most cases, medical offices have a voicemail option for callers seeking to make appointments or ask questions after staff has gone home. While this strategy might have done the job a decade ago, times have changed. We live in a 24/7 world, and patients expect to have round-the-clock support for when they need it most. At the same time, providers and administrative staff deserve time off to rest and recuperate after a hard day of work. After hours answering services for medical offices solve this all too common challenge.
After partnering with MAP, patients can dial in after hours and speak with a highly trained after-hours medical after-hours answering service employee. Our virtual receptionists serve as an extension of your team. Agents can provide answers to frequently asked questions or reassure patients that a provider can address their concerns once traditional business hours resume. In urgent situations that meet your specific parameters, we can even connect patients with the appropriate on-call provider.
Improve Patient Care with Our Medical Answering Service
When patients feel connected to their doctors, they experience less anxiety and feel more satisfied with their care overall. The ability to reach a medical practice at any time through a medical answering service is a huge boon to patients. Of course, doctors wish they could answer every call personally. With so many patients to see, though, it's important to have an answering service stem the tide of inbound calls.
Medical call centers can provide 24/7 support for patients in their hour of need. When people are anticipating lab results or waiting for confirmation of their upcoming appointment, the last thing they want to hear is a robotic voice telling them to call back another time. With MAP Communications at your service, your callers will be treated to empathetic service on their terms. This ultimately leads to improved patient satisfaction and better online reviews of your services.
Other Benefits of a Medical Answering Service
A high-quality medical answering service can provide a level of professionalism that few outsourced partners can. Each of our team members is trained to follow customer service best practices, crafting a call experience that's second to none. With MAP at the ready, you'll never need to worry whether your patients are in good hands. Every time the phone rings, we'll be there to answer quickly and politely. From there, we follow your lead, using the same policies and procedures your office has set in place.
This kind of partnership can seriously reduce overhead expenses. While you could certainly pay to find a full-time receptionist, train them, and outfit them with the latest technologies, working with MAP is a lot faster and more affordable. A call center for medical practices streamlines patient communication, saving you money and saving your office staff valuable time while reducing stress.
The benefits of a partnership with our medical answering service don't stop there. Many MAP clients report a reduced number of no-shows after bringing us into the fold. By setting up an appointment reminder program, you minimize the odds of no-shows. If a person can't make their appointment, the receptionist placing the call can help them reschedule. In turn, this gives you more time to fill that appointment slot.
In summary, the benefits of partnering with a medical answering service include:
Prevent missed calls
Higher efficiency of in-house employees
Meet HIPAA standards for privacy
Increase profitability
Improve rates of patient satisfaction
Better work/life balance
Decreased hold times for patients
Thorough record-keeping
24/7 support
Seamless appointment scheduling
Increased availability
These benefits are the mere tip of the iceberg of partnering with medical answering services. Improve your practice while providing extra protection for patient data. You'll also reduce many other administrative challenges your team may be experiencing. The team at MAP Communications is trained to deliver high quality customer experiences every time the phone rings.
HIPAA Compliant Medical Answering Services Designed for Complete Confidentiality
In the digital age, privacy is more important than ever before. Rest assured; MAP deploys the most advanced privacy practices possible to ensure HIPAA compliance. We pride ourselves on our ability to handle sensitive patient data and protect it with confidence. We make sure you are covered on our end when it comes to these regulations thanks to our HIPAA compliant medical answering services.
HIPAA compliance isn't optional. That's why we make it such a priority. Rest assured knowing that MAP will handle inbound calls with patience and sensitivity. Unload phone answering duties on our team without worrying about patient data. By allowing us to take care of callers, your front desk will have the bandwidth to focus on patients checking in and out.
Rest assured that our receptionist service for medical offices is designed with privacy and security in mind. Data protection is more important than ever in our digital age, which is why we keep our employees up to date on the ever-evolving industry best practices. This commitment to privacy and security is what has helped make MAP Communications a leader in the medical call center industry for more than three decades.
Healthcare Answering Services and Call Center Solutions for Hospitals, Medical Clinics, Family Physicians, Dentists, and More
There's no one-size-fits-all call center solution, which is why MAP works closely with our clients in the healthcare industry to create a custom script for their medical organizations. We even provide a leading management platform that allows you to view your call logs, schedule the appropriate on-call staff for us to contact, and even gain valuable insights through your call data. Along with our top-of-the-line technical capabilities and state-of-the-art proprietary software, this customization is what sets us apart from our competitors.
As medical centers fill the gaps left by more traditional hospitals, their popularity grows. With that popularity comes an increase in phone calls. Clinics that need someone to cover phones over the lunch hour or man the line on the weekends can also benefit from MAP's medical office answering services. At MAP, we recognize how different one medical clinic might be from the next, which is why we offer highly customizable scripts and call logs for all of our clients and their specialties.
When patients have an urgent medical question, there's nothing quite as frustrating as being told to hold. Even when calls are picked up relatively fast, staff are typically torn in a million different directions. This has a direct impact on patient satisfaction rates. If you're hoping to provide a truly first-class patient experience, MAP is a must. Every call is answered quickly, no matter what time of day a person is dialing in. This ensures nobody is ever left in the lurch. Plus, the importance we place on HIPAA compliance guarantees patient privacy.
Busy dental offices can benefit, too. With a dedicated team of virtual receptionists ready to take calls, your staff will have more time to focus on patients. By eliminating missed calls, there's more opportunity to grow your practice, too.
MAP Communications Medical Scheduling Integrations
Don't see the calendar application you use for your practice?
Let us know and we will work towards an integration solution for you!
Learn more about how we customize our medical call center solutions based on the unique requirements of your practice
MAP Medical Answering Service Reviews
See what more healthcare professionals have to say about MAP Communications.
How to Get Started with MAP's Healthcare Call Center
MAP Communications offers a convenient and free week-long trial of our medical call center services. To sign up, simply click here and give us a little information about your practice. Be sure to have an idea of how many inbound calls you receive each month – this doesn't have to be an exact figure. A ballpark idea of your call activity can help the MAP team develop a strategy for your practice. Once you submit the intake form, one of our helpful representatives will be in touch to discuss customized call scripts that match your organization's existing policies and procedures. Our goal is to provide as seamless a transition as possible between your administrative team and our virtual receptionists. In many cases, callers will have no idea that they're speaking with a third-party medical office answering service.
Here's what to expect when you decide to partner with MAP:
1. Let's Chat
Talk to us about your practice, patients, and goals. We'll work together to come up with a strategy to keep calls flowing for the best customer experience possible
2. Begin Forwarding Calls
The friendly virtual receptionists at MAP Communications can answer calls and address patient questions 24 hours a day, seven days a week – starting as soon as you need us.
3. Stay in the Loop
Keep updated on the calls we take, appointments we schedule, and other important backend data using our convenient customer web portal. Access it any time, from any device.
The Administrative Edge Your Medical Office Requires
MAP Communications provides live medical answering services, but that's really just the start. We offer an entire suite of administrative services to help support your office. Think of all you can accomplish with your phone calls forwarded to our team. Imagine how much more time you can dedicate to spending with patients with MAP's highly-trained employees fielding your calls and managing your office's busy schedule. Focus on what you do best and allow MAP to do the rest.
See how much value a medical virtual receptionist, call center or answering service can add to your practice. If you're intrigued by what MAP can do for your office, reach out for a free, week-long trial of MAP's medical answering services. There's no pressure and no obligation, so why not forward your calls this week? We know you'll love the freedom, flexibility and affordability our service provides. Get started now by clicking here to sign up for your free trial.
Here's a few articles if you'd like to read more about our healthcare answering services and your medical organization:
How A Call Overflow Answering Service Can Help Your Medical Practice
Answering Service For Healthcare
Live Video Explaining Medical Answering Services