Live answering services and answering and virtual receptionist services for medical equipment companies ensure that patients get what they need and that your business is lined up for success.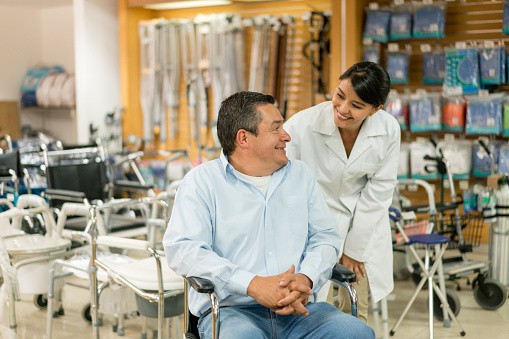 Few things are more important than your health. Your customers know this, but do your call agents? If you are a medical equipment company, every day you are receiving calls regarding patients who are dealing with illness, recovering from injury, or are fresh off an operation. When answering these calls, representatives need to not only be professional and polite, but they need to come across as caring and competent. At MAP, we want your business to shine, and that is why we have specifically created a call answering service for medical equipment companies.
In the medical field, every phone call is crucial. Imagine that your client has recently suffered an injury. As they deal with the healing process, they are counting on a wheelchair from your company to get them through. Will you be available to answer the phone when your customers need you the most? Perhaps one of your clients' needs a supply of oxygen or a specialized bed to get them through the initial stages of recovery. Are you always available to answer those calls? Our live virtual receptionists are ready to answer each call around the clock based on your customized medical equipment answering service plan.
At MAP, we have trained our skilled agents to handle each call professionally, courteously, and effectively. In any business, relationships are important. But when it comes to medical care, your callers need to able to trust your company. Medical supply answering services from MAP will help you build trust and familiarity with patients, hospitals, physicians, clinics, insurance providers and hospice organizations. After all, what builds trust more than knowing you can be reached 24 hours a day/7 days a week?
When callers have a need for an emergency piece of equipment, our call agents are on the job! When questions come up regarding equipment, operations, or equipment repair issues our agents will collect all of the details needed based on the scripting we develop together with your company. We always keep track of a long history of data so you can gain helpful insights and make important decisions. The more you know, the better you can serve your customers.
Here's what you can expect from MAP Communications answering services for medical equipment and supply companies:
A team of highly-trained, professional agents who are able to put callers at ease and get them the help they deserve.
Greatly increased availability for your staff.
Full access to our call management systems and tracking tools to measure our effectiveness and customer satisfaction.
A team who is dedicated to getting the medical equipment to the patients who need it.
MAP is based in the United States, provides the best medical answering services, and is available 24 hours a day / 7 days a week to help answer any or all phone calls. We want to make sure that there is never an unanswered call when patients are in need of medical equipment. Not every answering service has the training and know-how to handle calls within the medical field. Experienced MAP call reps combine competence with tactfulness to facilitate effective communication. We want to show medical equipment companies that you can provide even greater care to more patients while growing your business with an effective call answering service from MAP!
Here are a few articles if you'd like to read more about our medical equipment answering service and your company:
The Importance of a HIPAA-Compliant Answering Service
Why Having a Bilingual Answering Service Can Set Your Business Apart from the Competition