Live answering services and call center solutions for paving companies help you focus on the job at hand while never missing another call or opportunity.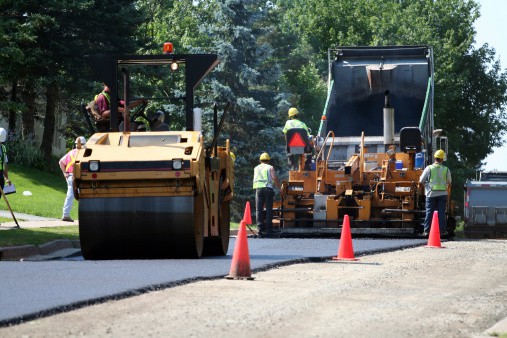 In the paving business, it's all about smooth transitions. When you're paving a street or sealing a driveway, nobody wants to see a crack in the asphalt or concrete. When it comes to phone calls, how are you handling them? Do your callers hear machinery in the background when you answer the phone? This is the situation for countless paving contractors. Set yourself apart from the group with call answering services for paving companies from MAP.
Whether you are laying down a new parking lot or driveway, seal coating or crack sealing, you can't neglect your current job for a ringing phone. You could always send the call to voicemail, but your prospective customers probably won't leave a message and will most likely move on to the next company. In order to grow your business, professionally handle every call, and provide great customer service, we have developed a call answering service specifically for those in the business of asphalt and concrete.
We know that a paving company like yours spends a large portion of time giving estimates. Wouldn't it be great to focus on quoting your prospective clients without interrupting the conversation for an incoming call? Our paving company answering service gives you the freedom to truly feel present at in-person meetings. You can give your full attention to the quoting process or job at hand, because you know that a team of live virtual receptionists are available to take care of other customers that may be calling in.
Would you like to know what type of advertising is really working to grow your business? Is it referrals, digital advertising, or traditional marketing? Our experienced call agents are trained to give you feedback on this important data from callers. That way you can make sure you're making the most informed decisions when it comes to investing in your business.
Paving answering services from MAP will make you feel like you have your very own call handling team of dedicated employees. We're committed to getting to know your business, your most important clients, and to handle calls the way you would yourself. We ask the important questions like:
"Are you a new or returning customer?"
"Is this for a residential or commercial job?"
"What type of budget do you have?"
Here's what you can expect from MAP Communications 24/7 answering services for paving companies:
Greatly increased availability for you and your contractors
Full access to call management and tracking tools that enable you to regularly monitor and evaluate our performance.
Each call answered quickly and professionally so you never miss another opportunity.
A team dedicated to representing your company with a professional knowledgeable answering service.
MAP answering services for contractors are based in the U.S. and is available 24 hours a day / 7 days a week to help answer any phone calls. We want to show paving companies that they can grow their business without sacrificing their relationships with their current clients by professionally handling every single call. Whether you're a small or large paving or sealing business, MAP has the team to take you to the next level. Give us a call today to find out more about how MAP can make a big difference for your company!
Here are a few articles if you'd like to read more about our answering services for paving companies and your business:
How Answering Services Work for Contractors
5 Tips for Running an Efficient Business