HIPAA is a big deal for anyone in the medical industry. Here's what you should know about the regulations and our commitment to HIPAA compliance for healthcare professionals and their patients.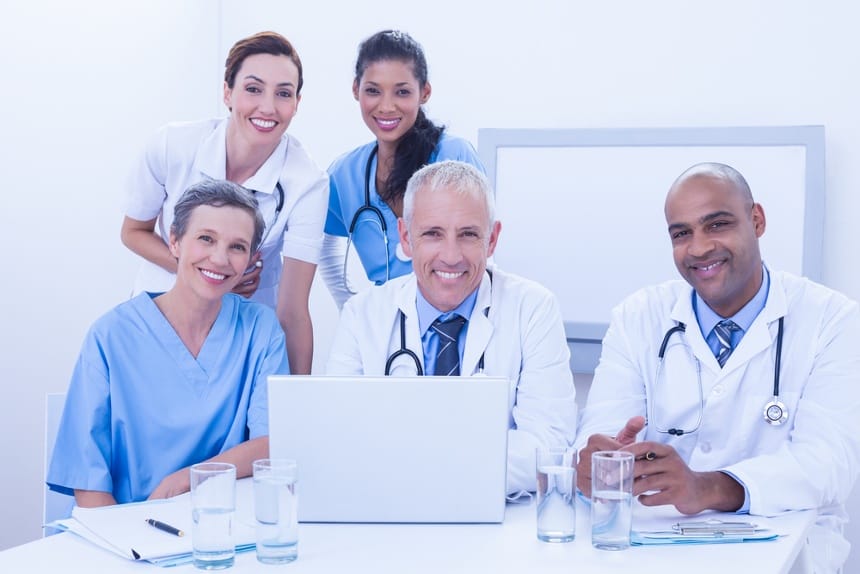 HIPAA Basics
Anyone who has ever worked in the medical industry has likely encountered the term HIPAA before. For others, the acronym might ring a bell but be ultimately unfamiliar. Short for Health Insurance Portability and Accountability Act, HIPAA is a term primarily and often used in the healthcare sector. Signed into law by President Bill Clinton in 1996, HIPAA required the U.S. Department of Health and Human Services to develop procedures that would protect patient data and medical information. Before HIPAA, there were no standards or expectations of privacy throughout the healthcare industry. Now, anyone in the medical field, whether directly or indirectly, must abide by HIPAA to avoid breaking the law.
Comprised of five sections, HIPAA includes guidelines for data privacy and other security provisions. Title I, the first section, protects health insurance coverage for those who have lost their job. Under Title I, group health plans cannot refuse to cover people with pre-existing conditions, nor may they set limits on lifetime coverage.
Title II, the second section, demands that the Department of Health and Human Services standardize the way medical data is processed electronically. It also requires organizations to create safe electronic access to a patient's health data. Medical organizations and those who handle patient data must comply with the standards created by the Department of Health and Human Services.
Title III outlines tax provisions and medical care guidelines, while Title IV further defines health insurance reform. Title V outlines provisions surrounding company-owned insurance and the care for those who have lost their citizenship because of tax reasons.
In most cases, when discussing HIPAA compliant answering services, it is Title II that is mainly referenced. These security and privacy rules govern much of the policies and practices in place in offices throughout the country.
The government takes these laws seriously, and failure to comply can result in serious consequences. HIPAA violations can land a person behind bars. But more frequently, they lead to significant financial penalties for companies who do not comply. With this in mind, MAP Communications has prioritized data security for all of our clients. Providing HIPAA compliant answering services for those in the medical industry isn't just legally required, it's the right thing to do. Obeying HIPAA requirements helps to protect our company, our clients and their patients.
HIPAA Answering Services
Any healthcare practice, office, or organization handling sensitive medical data that uses an answering service must ensure that they are using a HIPAA-compliant call center partner. This is essential for any private practice, hospital or clinic, regardless of size. HIPAA-compliant answering services provide customer support to offices, ensuring that their callers get the care they need while also protecting their private information. Whether answering a call about a simple medication refill or about the results of a life-changing test, virtual receptionists do all they can to handle callers with sensitivity and privacy.
HIPAA-compliant answering services aren't just nice to have – they're required by law. While your individual employees may be trained to comply with HIPAA, not every answering service receptionist is as adequately informed. That's why MAP Communications provides comprehensive training to guarantee that every call that comes through our call center is handled with HIPAA-compliant care and privacy.
In addition to HIPAA-compliant answering services, MAP also offers a fully customizable suite of online tools and reports. MAP allows healthcare providers to improve the flow of their business as well as their patient experience. Each of our virtual receptionists comes highly-trained, with years of experience supporting every phone call. Our team ensures that each caller gets the care they need while their private information is protected. This customizability is what sets MAP apart from our competitors. Our professional treatment of your callers leads to increased customer satisfaction. This will keep your patients calm about their appointments and procedures, as well as ensuring them that their problems are indeed being heard.
What could a customizable suite of HIPAA-compliant call center tools offer your practice? The possibilities are endless. Use MAP to organize and track patient calls, making sure that each one is accounted for and handled in a timely fashion. Create a customized script for MAP virtual receptionists to work from, guaranteeing a standard message across each and every communication.
Appointment Scheduling Services
Appointment scheduling services are a popular reason a doctor's office or hospital might require call center services. Thankfully, our appointment setting services are easily integrated into HIPAA-compliant call center practices. By partnering with MAP, you ensure your calendar is managed effortlessly. Have a trusted receptionist in the office already keeping your calendar full? A relationship with MAP can leave your in-house staff free to focus on patients in person. After all, nothing is more frustrating for a patient than being ignored in favor of a ringing desk phone!
Experienced, professional call center agents can't fully replace an in-house receptionist. They can, however, pick up the slack behind the scenes while your employees do what they do best: greet and care for your patients. Rather than being constantly interrupted by incoming calls, your administrative team can focus on the day-to-day operations of your office. This ultimately leads to greater patient satisfaction, as they receive the full attention of the friendly folks behind the counter.
MAP's suite of online tools come in handy in appointment scheduling practices, too. Practitioners can create a well-maintained calendar while avoiding double-bookings. After all, missing appointments with clients is never a good idea. It can reflect poorly on your office and ultimately cause you to lose business. With a HIPAA-compliant answering service on the job, you'll never be caught unaware again.
At MAP, we believe the administrative aspects of your business should run smoothly. By allowing a HIPAA-compliant answering service to manage your appointments and calendar, you leave more time for your staff to get to the heart of what really matters: your patients. While it's tempting to have a finger in every pie, allowing MAP's team of experienced virtual receptionists to take the lead on your phones will give you the peace of mind to start and end each work day with confidence.
24-hour/on-call/overflow/after-hours answering services
In the medical field, emergencies aren't limited to traditional business hours. Even if your office doesn't function as a 24 hour a day emergency room, most medical organizations need to be reachable around the clock. While any old answering service can pick up a ringing telephone, not all are as well-versed in HIPAA requirements at MAP Communications. Our HIPAA compliant answering services ensure that calls are routed to the appropriate person and that urgent calls a forwarded directly to you based on your specifications.
On-call answering services make prioritizing customer service easy. Such services can also make life in your office less stressful for everyone. When employees aren't tied to their desk and being constantly interrupted by the ringing of the phone, productivity skyrockets. This means your in-office staff can take care of the projects and tasks they care most about while resting assured that their patients are in good hands. Urgent calls get the attention they deserve, while routine calls about appointment scheduling are handled by trustworthy receptionists.
A HIPAA compliant call center can help stem the tide of incoming calls during particularly busy shifts. MAP ensures that every call is answered in a timely fashion, with no patient sent to voicemail or put on hold. Our representatives help to preserve your office's reputation for customer satisfaction by offering friendly, resourceful and speedy service regardless of what might be happening in the office itself. Whether a day is slow or frenzied, we're here to help pick up the slack. A HIPAA compliant phone service can set you apart from your peers, making you a leader in patient care.
Even when you're away from the office, HIPAA compliant messaging can guarantee that you never miss an important update. Rather than forwarding all calls to your cell phone and interrupting your much-needed time off, MAP takes calls 24 hours a day, seven days a week. We know how important accessibility is to your patients. With great care and sensitivity, we ensure that patient needs are addressed, appointments are scheduled, and prescriptions get filled. When it comes to work-life balance, a HIPAA compliant after hours answering service is the powerful solution you can count on.
Web Portal and Secure Messaging
Technology is a must in the 21st-century healthcare industry, but it doesn't stop with high tech imaging machines or state-of-the-art surgical techniques. Everything from the way appointments are scheduled to the feedback given by patients must be handled with cutting edge technology. While the tech may already exist, harnessing it in useful, responsible ways can be a challenge. HIPAA compliant messaging, for example, requires a degree of sensitivity and privacy that you might not expect. MAP's unique web portal can ensure that your office has comprehensive documentation on every incoming call. Trace the evolution of a patient relationship by checking notes and follow up from the very first phone call up through their latest conversation. This secure web portal gives medical professionals full access to call history, along with a wide variety of other tools. The best part? It's all easy to learn and use, time and time again.
After all, a HIPAA compliant phone service doesn't solve just one problem. While MAP can certainly help cover the phones during busy periods, we can also help your team streamline your office workflow. We like to think of ourselves as an extension of your office, increasing organization, productivity and accountability across the company. Because our web portal and answering services are all HIPAA compliant, you'll never be left questioning whether or not you've accidentally violated some requirement.
Pop quiz: should you have your answering service text you messages from patients? If you said yes, you'd be in violation of HIPAA! While it might make sense to keep things simple and just have your messages texted to you, sensitive patient data is at risk when it comes to standard text messaging, because it isn't inherently secure. That is why we have secure messaging solutions that are easy to use AND compliant with HIPAA. MAP's HIPAA compliant messaging solutions can help you easily receive messages from patients while securing their personal information and protecting you from expensive HIPAA-related violations.
We pride ourselves on our unique ability to provide secure, HIPAA-compliant messaging. Don't be surprised when you gain a reputation for customer service that's as personable as it is protected. In a world where the latest data breach seems to be lurking around every corner, the last thing you want is to put your own reputation at risk. After all, patients turn to you for help protecting their health. The last thing they want to worry about is the safety of their data!
Why MAP?
There is a wide array of answering services from which to choose, but few take HIPAA-compliance as seriously as MAP Communications. HIPAA violations can have a serious, long-lasting impact on an organization's reputation and success, which is why we make it our mission to protect patient information. Of course, even without government oversight, we know that patient data should be protected simply because it is the right thing to do.
We work with businesses throughout the medical industry to customize HIPAA-compliant solutions to solve the unique challenges they face. Moreover, we recognize that no two medical organizations are the same, which is why there is no one-size-fits-all approach. At MAP, we work hand in hand with our clients to problem solve in unique and unexpected ways. No matter what specific problems you must contend with, MAP is ready to tackle them head-on.
If you're curious about MAP's offerings and are eager to learn more, consider giving our free trial a shot. A week-long peek at our solutions can help you understand just how valuable a HIPAA compliant answering service can be for your organization. To get started, give us a call or simply fill out this brief form. With so much to gain, why not give MAP a try?
Here are a few articles if you'd like to read more about our HIPAA-compliant answering services and your company:
The Importance of a HIPAA-Compliant Answering Service
Medical Answering Services Explained