Live Virtual Receptionist Services to provide a professional phone experience for your callers.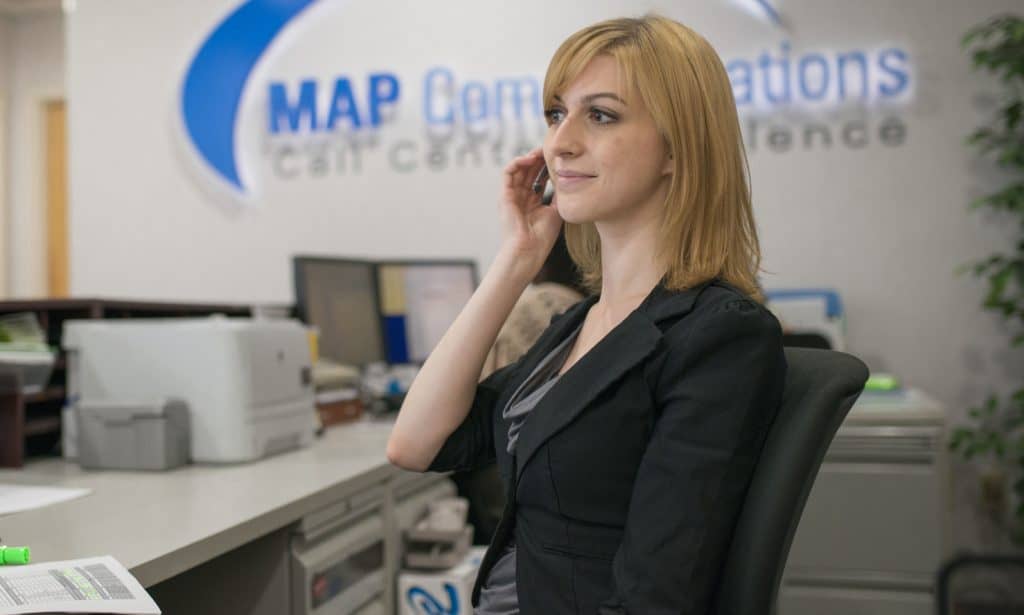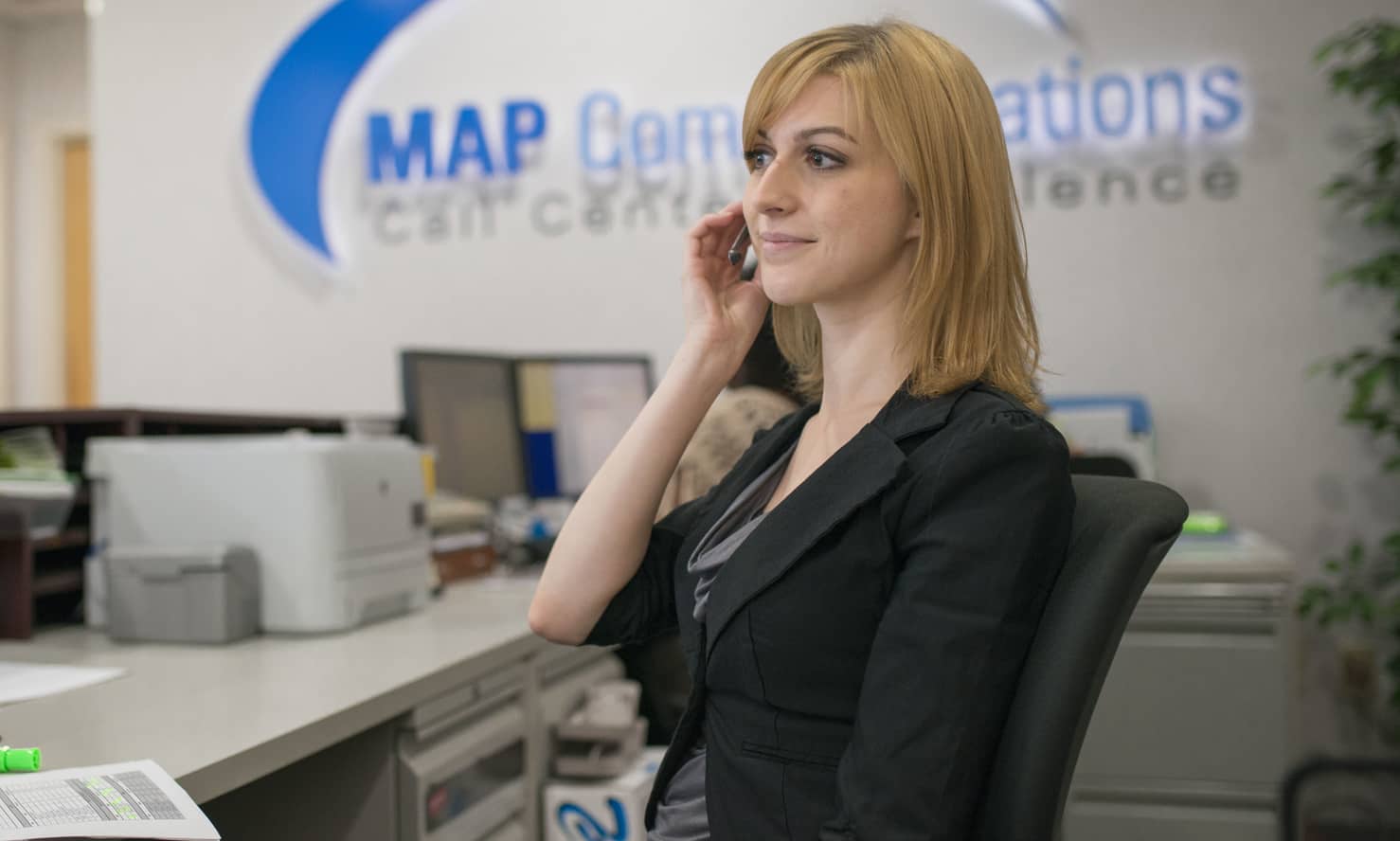 Bright, friendly, and helpful, our live receptionists are available whenever you require our services. Your callers prefer to converse with a real person who provides a personal touch that is unique to your business. We answer every call quickly 24/7/365 to ensure your caller customer experience is always dialed in. MAP Communications has a wide variety of customizable plans so you can pick the best virtual receptionist service that's right for you.
With competition on the rise in industries like yours, it's paramount to keep your customers happy and capitalize on any new business leads all while portraying a professional image. This is where our team of MAP Communications live virtual phone receptionists come in to make your life easier and your organization more successful. We strive to improve your customer service offering, professionally brand your company's phone experience, and even increase your sales leads. And we offer the best virtual receptionist services at an affordable, scalable rate that good business sense demands you consider. Our outsourced receptionist and remote secretarial services are sure to help take your business to the next level!
How MAP Communications Virtual Receptionist Services Work
We'll work with you to build a custom script that is crafted to handle your unique requirements.
Don't worry, you can keep using the phone number you already have. We simply give you a number that is unique to your organization and you can forward your calls to that number any time you like. If you prefer, you can even publish the number we give you on your company website, marketing collateral, and online listings if you'd like us to handle all your business calls that come in from those sources.
Your live virtual employee will then answer calls in a professional manner whenever you choose and however you want. We'll greet your callers, take accurate messages, give out information about your business that callers are seeking, book appointments, and transfer people to the correct person within your company per your call handling parameters. And we can do all of this at any time of day or night, because our remote receptionist services are available 24/7. So whether you are out of the office on the job, in a meeting, want some backup for your current staff, or would like to provide a branded, helpful phone experience for your callers after-hours, we've got you covered.
Our experienced, knowledgeable US-based virtual phone receptionists are fully trained on your account and have the ability to determine what type of call they are handling to ensure it is processed correctly. We can screen solicitors, assist your current clients, get hot leads on the line with your sales department, escalate emergency calls, and more all depending on how you'd like things taken care of.
When we do transfer calls to your office, we can announce the call to you and give you some preliminary information that we collected before bringing the caller on the line so that you're up to speed. Or we can just patch them through to your voicemail if you're unavailable to chat at that time. Or we can let your caller know that we are putting their information in front of the correct person and they can expect a resolution or return call within your specified timeframe. Any messages can be delivered to you via email, text, voicemail or pager and can also be found in your call log within your secure online account portal.
If you feel like you're able to cover your phones for a certain period of time and don't need us to help out, then simply unforward your line to us whenever you feel like it. You can also set up your account to have calls roll over to us if you aren't able to answer within a certain number of rings so your callers always have a live person to talk to!
Log into your account at your convenience to view your organized call reports, manage your detailed messages, check your usage, update your info, pay your bill, and more.
Live Virtual Receptionist Services We Offer
If you're never used a virtual receptionist service before, you may be surprised at just how useful they can be. Allow our team of professionals to support your organization's unique needs. Here are just a few of the ways we can help:
If there's an administrative challenge you're facing, odds are good that we can resolve it – or at least offer solutions that work for your team and your callers alike. A virtual office receptionist can truly transform the way your calls are handled, which is why so many businesses are opting to outsource their support to our team.
What Makes a MAP Communications Virtual Secretary Different?
While many providers of remote receptionist services are located overseas or in another country, our entire operation is based in the United States. With our team of professional live receptionists, you can rest easy knowing that your callers will not ever struggle to understand the conversation as they will always get the assistance they need.
We have strategically located our offices around the United States to ensure virtually 100% uptime. No natural disasters, power outages, or severe weather will impact our ability to continue answering your phones and help your customers. Even if an event happens in your area that disrupts your normal business operations, we'll stay up and running to make sure we've got your back.
MAP Communications is an employee-owned company. Anyone you speak with in our organization is an owner who has a vested interest in helping you succeed, because your success is our success! Being an employee-owned company also translates into having a team of people here that love working at MAP. Our virtual secretaries have the longest average tenure in the industry with decades and decades of combined experience providing exceptional service.
We are proud to offer bilingual virtual receptionist options as well. It doesn't make sense for you to lose a customer just because you can't communicate with them. Our virtual secretary services feature receptionists who are fluent in both Spanish and English so that your callers can have a conversation in the language they are most comfortable speaking. And we'll make sure you receive your messages in whichever language you prefer too.
What Types of Organizations use our Remote Receptionist Services?
Whether you are a small business, a medical office, or a division within a Fortune 500 company, we have clients just like you! Our live receptionist services are completely scalable and customizable so that we can tailor the ideal fit for your organization. Just a few of the many industries we serve include the medical profession, attorneys, property managers, contractors of all sorts, technical hardware and software support, hospitality businesses, educational institutes, and even government operations.
Businesses across industries are looking for a virtual appointment scheduling solution. We can help with that! Our virtual receptionist appointment scheduling services can manage your calendar while you stay busy and focus on your in-person clients. Our remote receptionists can recommend a couple great scheduling tools that we use, or we can use yours as long as it interfaces with Google Calendar. Either way, a live receptionists service with the power to schedule appointments and manage your calendar can be a huge boost to your business.
MAP Communications Live Receptionist Appointment Scheduling Integrations
Don't see the calendar type you use? Let us know and we'll work towards an integration solution!
Hire the Best Virtual Receptionists and Witness True Business Growth
Fully based in the United States and 100% committed to your success, MAP Communications virtual phone receptionists help you thrive. Skilled online secretaries combined with leading proprietary technology enables us to take great care of your callers so that they will be a positive source of word of mouth marketing for your company based on the stellar customer service they received. By never missing another call, you'll be able to capture more sales leads and focus on working through your calendar that is full of appointments. You can finally focus on your job while we eliminate the distraction of having to answer the phone each time it rings. And all this can happen in a far more cost effective manner than if you were to hire an in-house employee.
Consider the Cost-saving Opportunity of Hiring a Remote Secretary
Choosing to use an online secretary saves you the time, money, and effort of having to train a full-time receptionist that sits in your office and consumes your resources. Instead, we train them, they work in our office, and we invest in the best equipment for them to do their job well. You also don't have to worry about covering for them during breaks, wondering what to do with calls after hours, paying for their sick days/vacation/benefits or any of the other standard costs that come with hiring a typical employee.
If you have an in-house receptionist on hand, consider covering your calls 24/7 when they leave by using our after hours virtual receptionist services. While we agree that in-house receptionists can certainly bring value to your team, we are confident that our outsourced receptionist services can provide many of the same benefits but in a much more budget-friendly manner. One of the best things about an off site receptionist is that you only pay for the time they spend handling calls for you.
The average receptionist is paid well over $30,000/year. Our professional virtual receptionist services are available for as little as $40/month and you only pay for time we actually spend on the phone with your callers. From a cost-saving standpoint alone, a virtual secretary is absolutely worth thinking about. Then consider that this is a scalable solution that leaves no call unanswered 24/7 at a fraction of the cost and it all adds up to a great move for your organization.
MAP Communications Receptionist Service Reviews
"Using your receptionist service has made a significant impact on our office and our technicians. Having your professional receptionists manage the phones after hours has been a huge benefit for us. We no longer worry about missing important phone calls and job opportunities."
JOHN C., MAP Customer
"Your receptionist staff is really great! Very professional, courteous and friendly."
THE SUNSET HOUSE, MAP Customer
"I would tell any business owner that does not have the need or budget for a full time person to answer the phone to use MAP Communications virtual receptionist services without hesitation."
Scott M., MAP Customer
View additional reviews and testimonials here.
Try MAP Communications Virtual Receptionist Services Today
We offer a fully array of affordable receptionist service plans, and each is customizable to your specifications. However, you can see what we're all about absolutely free! We offer prospective new clients a free trial of our live receptionist services with no strings attached. Contact us today to learn more or get started!
Virtual Receptionist FAQs
Still have questions about our virtual receptionist service? Allow us to dispel a few myths and clarify exactly how a remote receptionist service can add value to your organization:
What is a Virtual Receptionist?
A virtual receptionist is like an in-house receptionist who works remotely. They perform many of the same tasks an in-house receptionist might be responsible for, like answering phone calls, scheduling appointments, qualifying leads, and responding to customer concerns. Virtual receptionists ease many of the administrative burdens caused by inbound calls, allowing your team to focus on customers and on growing your business.
How Much Does Virtual Receptionist Services Cost?
Virtual receptionist services are more affordable than you might expect. A team of virtual receptionists can work around the clock to answer your calls 24 hours a day, seven days a week for a fraction of what it might cost to employ an in-house receptionist full time. Unlike in-house professionals, virtual receptionists are ready to hit the ground running as soon as you decide to work with one. They require no additional training, don't need any special equipment provided from you, nor do they need you to pay for benefits, sick leave, or vacation time. Flexible plans mean that there's always an affordable price point for your needs. For more information, see our pricing page.
What Does a Virtual Receptionist Do?
A virtual receptionist answers phones, takes messages, transfers calls, and performs a number of other customer service tasks over the phone. Perhaps most importantly, they bring a human connection to each call. Callers get the attention they need while you save on the expenses of bringing in a full-time, in-house receptionist. Virtual receptionists become experts on your business, providing a seamless transition for callers – many people have no idea they're speaking with a third-party virtual receptionist service.
How Does Virtual Receptionist Work?
Upon deciding you want to work with a virtual receptionist service, you'll be guided through onboarding procedures by a helpful MAP Communications employee. We'll help you create a custom script from which to work and clarify any policies, procedures, or language you prefer us to use. After determining when you'd like your calls to be covered by our team, we simply transfer all your inbound calls from your phone line to ours. Customers still dial the same number, but when our virtual receptionists are covering your calls, they'll be instantly connected with our team. Turn coverage on or off as needed. Flexibility is part of what makes a partnership with a virtual receptionist so appealing.
What Should I Look for in a Virtual Receptionist Service?
As you shop around for the right virtual receptionist service, be mindful of service offerings. A dentist office might need a service that schedules appointments, while a catering company may want someone who can qualify leads. A startup tech company might prefer a virtual receptionist who can provide tier one tech support. Decide upfront which services you're hoping to outsource and let those priorities guide your search.
What is a Virtual Receptionist? – Still unsure exactly what a virtual receptionist is? Learn what these professionals do on a daily basis and how they can add value to your organization.
Skills a Virtual Receptionist Should Have to Benefit Your Business – As you vet potential virtual receptionist services, it's important to be on the lookout for professionals with skills like multilingualism, reliability, patience, and tech savviness.
How Virtual Receptionists Promote Better Customer Relationships – If you're hoping to foster meaningful relationships with customers and cultivate real loyalty for years to come, a virtual receptionist can help in surprising ways.