Real estate agents are some of the busiest people on the planet. From meetings with lenders to showing homes to buyers to writing offers, there's no end to the list of things realtors accomplish in a day. Amidst these tasks, real estate professionals must also remain available to callers interested in connecting. The immense growth in the use of mobile technology has made this part of the job easier in some ways; clients can generally get a hold of their agents at any time of day or night. For realtors themselves, though, this availability comes as a double-edged sword. It's hard to maintain a semblance of work/life balance when your phone is constantly buzzing.
If you're searching for real estate tips for handling your incoming calls, you've come to the right place. In our years of experience as a real estate call answering service, we've learned a thing or two about the art of the phone conversation. Try these tips whenever you're ready to reinvent your customer experience strategies:
Start with a Professional Greeting
It's true what they say: you only get one shot at a first impression. A single conversation can be the deciding factor in whether or not a prospective client wants to work with you. That means every incoming call offers a new opportunity to create new business or help existing clients. With so much riding on each conversation, it's important to begin as professionally as possible. Your greeting sets the tone for the entire rest of the call, so think carefully about how you'd like to portray yourself and your business.
Consider the experience of your callers: how might you like to be greeted if you were in their shoes? This answer can guide you to a greeting that feels authentic and professional. Decide if you'd like to introduce yourself, your business, or both. While you might be concerned about overloading callers with too much information upfront, it's fairly common to offer both a greeting and an introduction. This move helps to put a face to the business while clarifying who exactly the caller has reached. Phone scripts for real estate agents don't have to be overly complex to be effective, though!
Craft a Customized Script
Don't stop writing your real estate phone call script after finding the perfect greeting. In fact, the entire framework of your professional calls can be outlined in advance. Phone scripts for real estate agents are powerful tools that can range from brief and simple to long and dynamic. They give phone calls structure, streamlining conversation and getting to the point faster. Scripts can also be a great way to carry your branding throughout every client interaction. People want to work with realtors and businesses that exude professionalism and consistency. Phone scripts do that in one fell swoop.
The simple act of creating a customized script for your business can be helpful in unexpected ways. Spend some time reviewing your existing call handling policies – are there gaps in your current customer service strategy? Address them by creating a flowchart for your conversations. Start by determining why a person might dial your number. The answer will create a new conversational path for you or your colleagues to follow. Make a list of common questions and reasons for calling and then answer them as thoroughly and clearly as possible. This provides a skeleton flowchart for you to adapt into a call script.
Answer Your Phone Whenever Possible
In competitive real estate markets, sales live and die by the answering of your phone. A single missed call could mean missing out on important client calls, negotiation talks, and leads on homes coming on the market. Tips for managing phone calls in real estate don't get much more straightforward than this: answer your phone every time it rings.
This strategy is easier than it sounds – especially if you're trying to prioritize a healthier work/life balance. As busy professionals know, it can be challenging to remain present during your off hours when the next big sale is just a phone call away. That's why so many realtors turn to a real estate call answering service for administrative support. This kind of service allows you to prioritize time with friends and family without neglecting the needs of clients. Agents can screen your calls, forwarding on only the most important conversations to your personal device. It's a win-win for clients and realtors alike!
Forward Office Calls to Your Cell
It seems real estate agents are always on the go. From open houses to private showings and lunches with clients, realtors are routinely out and about and away from their desks. This becomes a problem when client calls come into the office and there's nobody around to answer. One of the best real estate business tips is to have those calls forwarded to your cell phone, freeing you from feeling chained to your office day in and day out.
Call forwarding services can provide a seamless transition from your office calls to the ones you take on the go. The feature allows users to direct incoming calls to a different number or device, with the option to turn off call forwarding as desired. For instance, if you're working hard in the office all morning but decide to meet a client for coffee at a local cafe, simply turn on call forwarding and – in the eyes of callers – it's like you've never left your desk. You'll increase your mobility, improve your availability, and reduce the number of voicemails waiting for you when you return to your desk.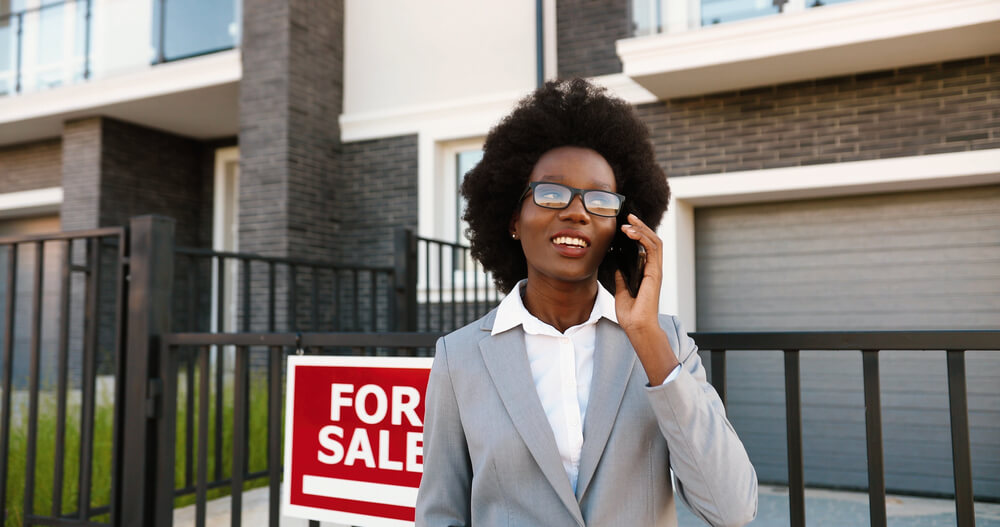 Remain Upbeat in the Face of Bad News
Real estate can be a rollercoaster. No matter how good a salesperson you might be, there are inevitable moments of disappointment you'll have to break to your clients. When people's homes hang in the balance, the stakes are incredibly high. That's why it's important to remain upbeat no matter what news you have to share with callers. This real estate tip might seem like common sense, but it's an incredibly important strategy to have in your back pocket.
Consider the emotions you yourself felt when you were shopping for your first home. Your clients may feel excited, anxious, nervous, eager, or apprehensive at any given moment. As the professional in the dynamic, it's up to you to remain upbeat no matter what happens with a given sale. By leading with empathy, you set the tone for client interactions and expectations. There's perhaps no aspect of the job more important than this!
Separate Business Calls from Personal Conversations
Speaking of your cell phone, are you still answering work calls on your personal smartphone? If so, it's time to take the plunge and invest in a second line. Working in real estate is incredibly fast-paced – you've got to be reachable at all hours of the day and night. In a role in which managing client relationships is key, it's crucial to manage your calls effectively. That starts with keeping business and pleasure separate.
Instead of buying an entire second phone, take advantage of technology solutions that allow you to simply add an additional line to your existing device. Being a real estate agent often means working long hours, which can eat into your personal life fast. Having a second line for business will help separate your personal and professional worlds, giving you a better work/life balance.
By adopting a second line for your business on your existing phone, you'll streamline communications and improve your professionalism, all in one strategic move. Real estate tips don't always have to reinvent the wheel to be effective!
Partner with a Real Estate Call Answering Service
If you're really hoping to transform the way your real estate business handles incoming calls, there's no substitute for a real estate call answering service. It's like having a personal receptionist without the expensive salary to pay. Whatever your communication style, answering service professionals can mirror your preferred language, carrying your personal brand through every conversation.
When you partner with a real estate call answering service, you'll instantly solve many of your most common administrative challenges. Without having to stop whatever you're in the middle of each time the phone rings, you'll be free to go about your day, confident that your calls are handled. Meanwhile, you can focus on the most important tasks at any given moment and ensure you're never missing an opportunity to close another deal.
Choose MAP Communications for Your Call Answering Needs
With the fastest pick-up times in the industry, MAP Communications has become synonymous with stellar customer service. Our professional, courteous receptionists are an ideal solution for our real estate clients. We work to develop customized call scripts that feel like a natural extension of your business. In many cases, callers have no idea they're speaking with an outsourced partner. They're privy only to the professionalism, efficiency, and ease with which all our calls are handled.
Curious to learn more about how to leverage our real estate phone service for your business? Discover what our satisfied clients have to say about their experiences with MAP. When you're ready to give us a try, sign up for a free trial to preview what we can do for your real estate business!
Here are some related articles you might be interested in:
The Do's and Don'ts of Business Phone Etiquette
Tips for Improving Your Customer Service Greetings & Phrases